Get ready to tame the beast! The Kawasaki Z900 SE is the motorcycle that everyone is talking about and for a good reason. This breathtaking machine has been turning heads and setting records since its debut. With its combination of raw power, top-notch engineering, and exceptional performance, it's no wonder why this bike is a fan favorite.
In this comprehensive and engaging article, we'll dive deep into the world of the Kawasaki Z900 SE, exploring its top speed and incredible specs and providing an in-depth review. Prepare to be amazed as we unravel the mysteries of this remarkable motorcycle, showcasing its features, performance, and overall riding experience.
Unveiling the Beast
History & Evolution
The Kawasaki Z900 SE is a worthy successor to the iconic Kawasaki Z800 and other models in the series. These motorcycles have long been a staple of the Kawasaki lineup, and this particular model brings a fresh new face to the family. The Z900 SE is a product of years of research, development, and innovation, culminating in a motorcycle that truly stands out from the crowd.
Design & Aesthetics
The Z900 SE is a true visual masterpiece, with aggressive lines and an eye-catching design that is bound to make a statement. The motorcycle features a sharp, muscular, and aerodynamic design, reflecting its sports-oriented DNA. The bold Sugomi-inspired styling, LED headlights, and taillights, along with the distinctive "Z" pattern, make this motorcycle a force to be reckoned with.
The Heart of the Beast: Engine & Performance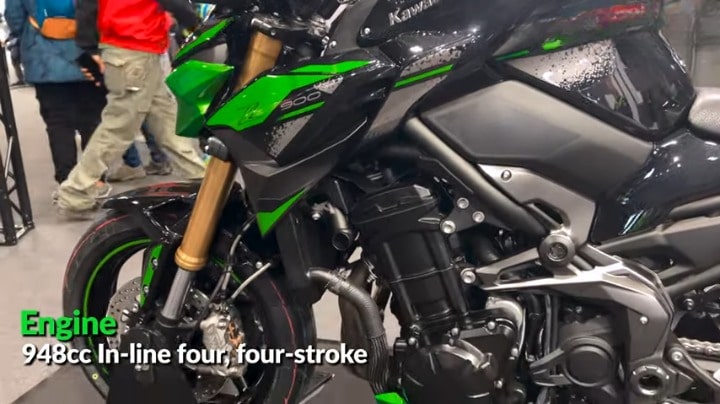 Engine Specifications
Powering the Kawasaki Z900 SE is a liquid-cooled, 948cc, inline-four engine that generates an impressive 125 horsepower at 9,500 rpm and 72.5 lb-ft of torque at 7,700 rpm. This powerful engine is paired with a 6-speed gearbox and an assist & slipper clutch, providing a smooth and responsive ride.
Performance & Top Speed
This bike boasts an awe-inspiring top speed of around 155 mph (250 km/h), making it a powerful contender in the sports motorcycle segment. The quick-revving engine and agile handling ensure an exhilarating riding experience, while the advanced electronics, such as the Kawasaki Traction Control (KTRC) and Power Mode Selector, allow the rider to customize their experience and optimize performance.
The Backbone: Chassis, Suspension & Brakes
Chassis
The Kawasaki Z900 SE features a lightweight and rigid trellis frame designed to provide excellent handling and stability. The high-tensile steel frame contributes to the bike's overall lightness, tipping the scales at just 468.6 lbs (212.6 kg) wet weight, ensuring excellent maneuverability and control.
Suspension
The bike is equipped with a 41mm inverted fork with compression and rebound damping and spring preload adjustability at the front and a horizontal back-link rear suspension with rebound damping and spring preload adjustability. This sophisticated suspension setup guarantees a plush and comfortable ride while also providing razor-sharp handling in the corners.
Brakes
Bringing the Kawasaki Z900 SE to a stop is a set of high-performance brakes featuring dual 300mm petal-type front discs with 4-piston calipers and a single 250mm petal-type rear disc with a single-piston caliper. The motorcycle also comes standard with Kawasaki's Intelligent anti-lock Brake System (KIBS), ensuring exceptional braking performance and confidence-inspiring control.
Rider Comfort & Ergonomics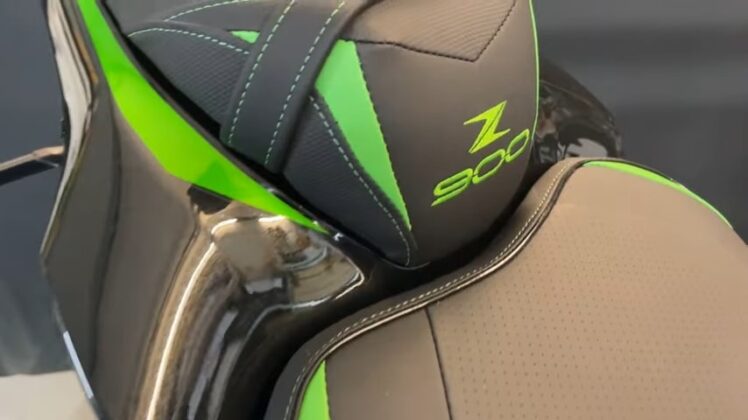 Seating
The Kawasaki Z900 SE offers a comfortable and spacious seating position for both the rider and the passenger. The seat height measures 31.3 inches (795 mm), making it accessible to riders of varying heights. The well-padded seat, along with the carefully sculpted tank, allows the rider to easily grip the motorcycle with their knees, providing better control and comfort during long rides.
Ergonomics
Kawasaki has paid close attention to the ergonomics of the Z900 SE, ensuring a natural and relaxed riding posture. The wide handlebars, slightly rear-set footpegs, and upright seating position make the Z900 SE suitable for both sporty riding and long-distance touring. The easy-to-read TFT instrumentation and smartphone connectivity via Kawasaki's RIDEOLOGY app further enhance the rider experience.
The Full Package: Electronics & Features
Electronics
The Kawasaki Z900 SE comes packed with an array of advanced electronic features designed to enhance the riding experience and provide optimum control. The motorcycle features a Kawasaki Traction Control (KTRC) system, offering three modes of intervention to suit various riding conditions. Additionally, the Power Mode Selector allows riders to choose between Full and Low power output, tailoring the bike's performance to their preferences.
Features
Other notable features of the Z900 SE include LED lighting for enhanced visibility, an easy-to-read TFT color instrumentation with a gear position indicator, fuel gauge, and more. The Z900 SE also offers smartphone connectivity via Kawasaki's RIDEOLOGY app, allowing riders to access various functions, such as vehicle information, and riding logs, and even adjust the motorcycle's settings.
Taking the Ride: Real-World Impressions
City Riding
The Kawasaki Z900 SE is well-suited for navigating urban environments. Its lightweight and agile handling make it easy to maneuver through traffic, while the responsive engine delivers smooth and linear power, ensuring a comfortable ride at low speeds. The upright riding position and wide handlebars provide excellent visibility and control, making the Z900 SE an ideal choice for city commutes.
Touring Capability
While primarily a sports-oriented motorcycle, the Z900 SE also demonstrates touring capabilities. The comfortable ergonomics, powerful engine, and adjustable suspension make it suitable for long-distance rides. However, for extended high-speed touring, riders may want to consider adding a windscreen for better wind protection. The addition of luggage accessories, such as saddlebags or a tail bag, will also enhance the bike's touring potential.
Track Performance
The Kawasaki Z900 SE's impressive performance and handling make it a capable track machine. The strong engine, advanced electronics, and adjustable suspension allow riders to push the limits of their riding skills on the track. While not a dedicated track bike, the Z900 SE can undoubtedly hold its own in a track day setting, providing an exhilarating and confidence-inspiring experience.
Customization & Accessories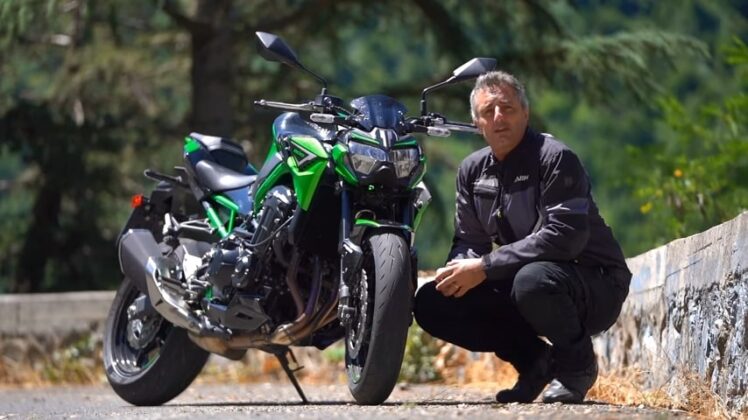 Performance Upgrades
For those looking to further enhance the performance of their Kawasaki Z900 SE, a variety of aftermarket options are available. These include performance exhaust systems, air filters, and engine tuning kits. Riders can also upgrade the suspension components or invest in a quick-shifter for seamless gear changes.
Cosmetic Upgrades
There's no shortage of cosmetic upgrades available for the Z900 SE. Riders can choose from a wide range of aftermarket parts, such as custom seats, levers, mirrors, and more. Additionally, various decal kits and custom paint jobs can help personalize and distinguish your Z900 SE from the rest.
Protection & Safety
To safeguard your Kawasaki Z900 SE, consider investing in protection accessories such as frame sliders, engine case covers, and axle sliders. These components can help minimize damage in the event of a fall or collision. Additionally, riders can upgrade the bike's lighting with brighter LEDs or auxiliary lights to enhance visibility and safety.
Kawasaki Z900 SE: Maintenance & Reliability
Maintenance
This bike is designed for easy maintenance, with regular service intervals at 7,500 miles (12,000 km) or 12 months, whichever comes first. The motorcycle's maintenance schedule includes routine tasks such as oil and filter changes, brake pad inspections, and chain adjustments. By adhering to the recommended maintenance schedule, riders can ensure the longevity and reliability of their Z900 SE.
Reliability
Kawasaki has a reputation for building reliable and durable motorcycles, and the Z900 SE is no exception. The high-quality components and engineering that go into the construction of the Z900 SE contribute to its overall reliability. With proper maintenance and care, the Kawasaki Z900 SE is a motorcycle that can provide many miles of exhilarating riding experiences.
Kawasaki Z900 SE: The Verdict
[su_box title="Pros" box_color="#3E9F1A" radius="4″][su_list icon="icon: check-circle" icon_color="#0cc33e"]
Powerful and responsive engine

Excellent handling and stability

Comfortable ergonomics for various riding styles

Advanced electronics for customizable performance

Attractive design and aesthetics
[/su_list][/su_box] [su_column size="1/2″ center="no" class=""] [su_box title="Cons" box_color="#B22222″ radius="4″][su_list icon="icon: ban" icon_color="#bf000a"]
Limited wind protection for high-speed touring

No quick-shifter option as standard
[/su_list][/su_box] [/su_column]
Read our article about Kawasaki Ninja ZX-10R SE, also.
Final Words
The Kawasaki Z900 SE is a motorcycle that truly lives up to its reputation. With its combination of raw power, exceptional handling, and advanced electronics, it offers an unparalleled riding experience. Whether you're a seasoned rider or just starting, the Z900 SE is a motorcycle that caters to a wide range of preferences and skill levels.
The aggressive design and eye-catching aesthetics make it a true head-turner, while the comfortable ergonomics and advanced features ensure an enjoyable ride. Overall, the Kawasaki Z900 SE is a versatile and exhilarating motorcycle that deserves a place in any rider's garage.