The Kawasaki Ninja ZX-10R SE is an iconic motorcycle that has earned its place in the hearts of speed enthusiasts around the world. This high-performance machine boasts an impressive combination of power, technology, and aesthetics, making it a force to be reckoned with. In this comprehensive review, we'll dive deep into the Ninja ZX-10R SE's top speed, specs, and features, exploring why this supercharged beast continues to dominate the superbike segment. Get ready for an exhilarating ride!
A Brief History of the Kawasaki Ninja ZX-10R
The Kawasaki Ninja ZX-10R first hit the market in 2004 as a successor to the ZX-9R, with the goal of offering a more powerful and race-ready machine. The Ninja ZX-10R's prowess has since been proven on the race track, capturing multiple World Superbike Championships and earning a reputation as a formidable opponent on the street.
Over the years, Kawasaki has continuously improved the ZX-10R through the introduction of cutting-edge technology and design updates. In 2018, the Ninja ZX-10R SE was unveiled, featuring electronic suspension and other advanced features, taking the superbike to a whole new level.
Kawasaki Ninja ZX-10R SE – Power and Performance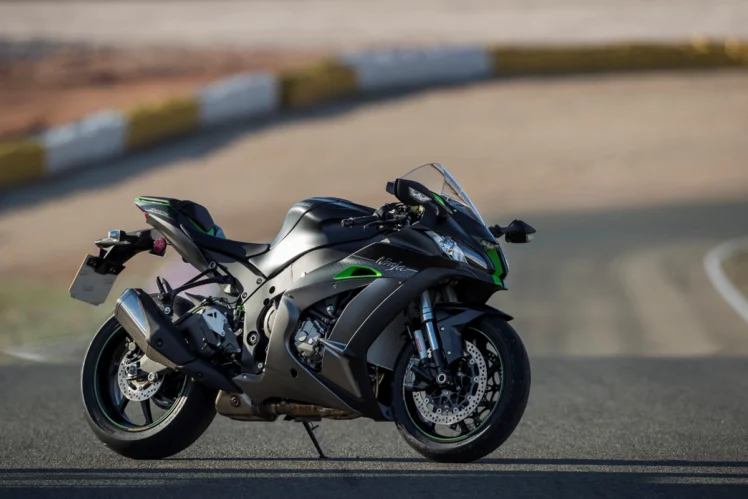 Engine and Transmission
The heart of the Ninja ZX-10R SE is a 998cc inline-four engine with a 76.0 x 55.0mm bore and stroke, which is optimized for high-rpm performance. The engine delivers an impressive 200 horsepower at 13,000 rpm, with 83.7 lb-ft of torque at 11,500 rpm. This powerplant employs a dual-injector system and a redesigned cylinder head to improve combustion efficiency and enhance mid-range and high-rpm power.
The ZX-10R SE features a 6-speed cassette-type transmission, allowing for quick gear ratio changes to suit different track conditions. The addition of Kawasaki's Quick Shifter (KQS) makes for seamless upshifts and downshifts without the need for a clutch, ensuring you can keep your focus on the road ahead.
Top Speed
With its powerful engine and aerodynamic design, the Ninja ZX-10R SE boasts a top speed of approximately 186 mph (299 km/h), making it one of the fastest production motorcycles in the world.
Acceleration
The ZX-10R SE is no slouch in the acceleration department, either. Thanks to its advanced electronics and race-inspired features, this superbike can sprint from 0 to 60 mph in just 2.7 seconds, leaving competitors in the dust.
Advanced Technology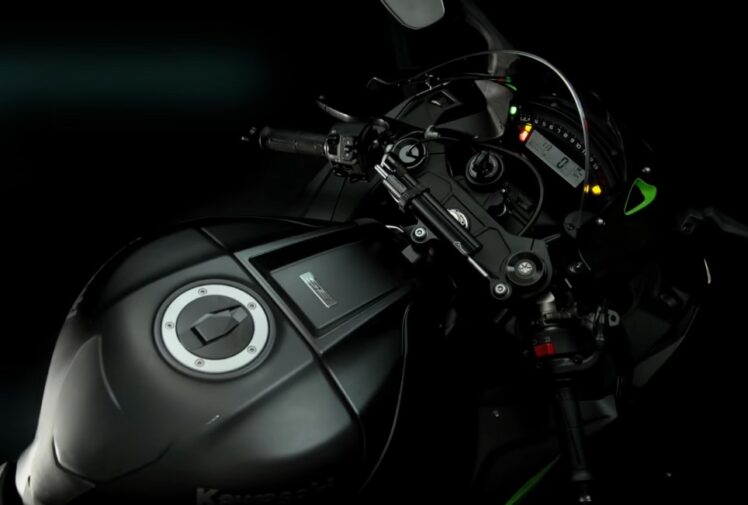 Electronic Suspension
One of the standout features of the Ninja ZX-10R SE is its Showa Balance Free electronic suspension. The system uses an advanced ECU and dedicated solenoid valves to adapt damping and rebound settings in real time, providing a smooth and stable ride on both the track and the street.
Electronics Package
The ZX-10R SE comes equipped with Kawasaki's advanced electronics package, which includes:
Kawasaki Traction Control (KTRC): This system offers three modes of intervention to suit a variety of riding conditions, optimizing traction and acceleration.

Kawasaki Intelligent Anti-lock Brake System (KIBS): This high-precision system modulates brake pressure according to the bike's lean angle, ensuring optimal braking performance.

Kawasaki Launch Control Mode (KLCM): With three selectable modes, KLCM helps riders achieve quicker starts by minimizing wheel spin during hard acceleration.

Kawasaki Engine Brake Control (KEBC): This feature allows riders to adjust engine braking force according to their preference, providing smoother deceleration and increased stability.
TFT Color Instrumentation
The Ninja ZX-10R SE features a full-color TFT instrument panel that offers superior visibility and easy access to essential information. The display can be customized to show a variety of data, including gear position, speed, odometer, trip meters, and more. Additionally, the panel can connect to your smartphone via Kawasaki's Rideology app, providing access to vehicle data, GPS navigation, and other useful features.
Chassis and Design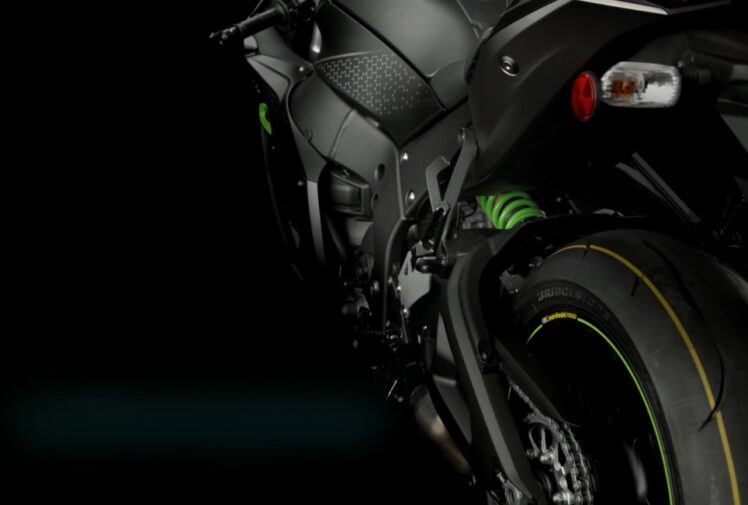 Frame and Swingarm
The ZX-10R SE utilizes Kawasaki's twin-spar aluminum frame, which is designed for optimal stiffness and weight balance. This design allows for precise handling and increased stability at high speeds. The fully adjustable, linkage-equipped swingarm further enhances the bike's handling and traction capabilities.
Aerodynamics
The Ninja ZX-10R SE sports a sharp, aggressive design that not only looks stunning but also serves a functional purpose. The aerodynamic bodywork reduces drag and improves high-speed stability, while the integrated winglets on the fairing generate downforce for enhanced front-end grip.
Braking System
The ZX-10R SE comes equipped with top-of-the-line Brembo brakes, featuring dual 330mm discs with M50 monobloc calipers in the front and a single 220mm disc with a single-piston caliper in the rear. This braking system delivers exceptional stopping power and precise control, inspiring confidence in riders of all skill levels.
Comfort and Ergonomics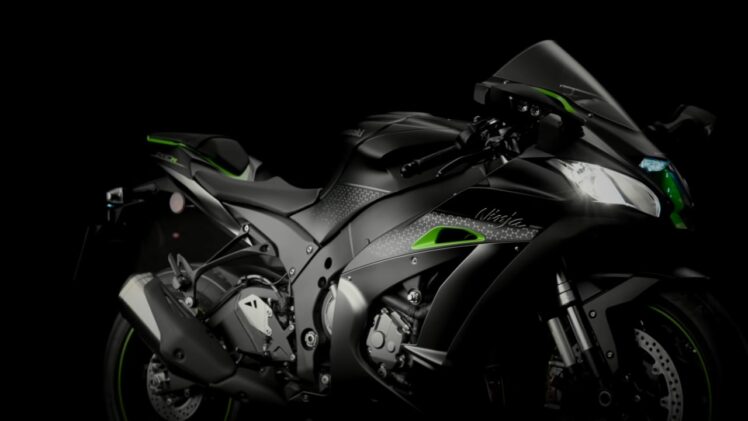 Riding Position
The Ninja ZX-10R SE is designed for both street and track riding, with a riding position that strikes a balance between comfort and performance. The clip-on handlebars are positioned for optimal control, while the slightly rear-set footpegs offer a sporty yet comfortable riding stance.
Seat and Wind Protection
The ZX-10R SE's seat is well-padded and supportive, providing comfort during long rides. The bike also features an adjustable windscreen, allowing riders to customize wind protection according to their preference and riding conditions.
Price and Available Colors
The Kawasaki Ninja ZX-10R SE has a starting MSRP of $25,099, making it a competitively priced option within the literbike category. The bike is available in two color schemes: Emerald Blazed Green / Metallic Diablo Black and Pearl Storm Gray / Metallic Diablo Black.
Track Performance
The Kawasaki Ninja ZX-10R SE is a track-focused machine that excels in high-speed cornering and acceleration. Its advanced electronics package, including the customizable Kawasaki Traction Control (KTRC) and the Kawasaki Launch Control Mode (KLCM), provides riders with the confidence to push the limits on the track. Furthermore, the Showa Balance Free electronic suspension ensures a smooth and stable ride while tackling the most challenging circuits.
Road Performance
While the Ninja ZX-10R SE is designed with the racetrack in mind, it is also a competent road machine. The adjustable riding position and comfortable seat make it suitable for longer rides, and the electronic suspension adapts to varying road conditions, providing a comfortable and controlled experience. The bike's street manners are further enhanced by the Kawasaki Intelligent anti-lock Brake System (KIBS), which ensures optimum braking performance regardless of road conditions.
Maintenance
As with any high-performance motorcycle, proper maintenance is crucial to ensure the longevity and reliability of the Ninja ZX-10R SE. Kawasaki recommends regular oil and filter changes, as well as periodic checks and adjustments of the chain, brake pads, and suspension components. Additionally, the bike's advanced electronics and engine systems may require periodic software updates and tune-ups by a certified Kawasaki technician.
Reliability
Kawasaki has a reputation for building reliable motorcycles, and the Ninja ZX-10R SE is no exception. With proper maintenance, this high-performance machine can provide years of trouble-free riding. However, it is essential to follow the recommended maintenance schedule and only use genuine Kawasaki parts and accessories to ensure the bike's reliability and performance.
Aftermarket Support
There is a vast array of aftermarket parts and accessories available for the Kawasaki Ninja ZX-10R SE, allowing riders to customize and fine-tune their machines to suit their preferences and riding styles. Popular upgrades include performance exhaust systems, air filters, brake pads, and levers, as well as cosmetic enhancements such as custom paint jobs, decals, and seat covers.
Customization
The Ninja ZX-10R SE is a highly customizable platform, allowing riders to create a unique and personalized motorcycle. From aesthetic upgrades like custom graphics and color schemes to performance-enhancing modifications such as suspension upgrades and engine tuning, the possibilities are nearly endless. By choosing the right combination of aftermarket parts and accessories, riders can build their dream superbike tailored to their individual needs and preferences.
Comparisons with Competitors
Yamaha YZF-R1M
The Yamaha YZF-R1M is another high-performance superbike that offers advanced technology and impressive performance. Both bikes have similar power outputs and top speeds, but the Ninja ZX-10R SE's electronic suspension and comprehensive electronics package give it an edge in handling and rider aids.
BMW S1000RR
The BMW S1000RR is another strong competitor in the literbike category, boasting a powerful engine and sophisticated electronics. While the S1000RR has a slightly higher price tag than the Ninja ZX-10R SE, it offers features such as a quick-shifter and auto-blipper as standard equipment. However, the ZX-10R SE's electronic suspension and proven track record in World Superbike Championships make it a worthy contender in this fierce competition.
Rider Training
For riders who are new to high-performance motorcycles or looking to improve their skills, it is highly recommended to invest in professional rider training. Courses such as those offered by the California Superbike School or Yamaha Champions Riding School can provide valuable instruction on proper riding techniques, cornering, and braking, ensuring that you can safely and confidently explore the limits of your Ninja ZX-10R SE.
Track Days
Participating in track days is another excellent way to get the most out of your Kawasaki Ninja ZX-10R SE. Riding on a closed circuit allows you to fully experience the bike's performance capabilities in a controlled environment, free from the hazards and restrictions of public roads. Many organizations host track days at various racing circuits around the world, catering to riders of all skill levels. Be sure to check your local track day events and guidelines to ensure a safe and enjoyable experience.
Read our article about Kawasaki Z900 SE, also.
Final Words
The Kawasaki Ninja ZX-10R SE is an extraordinary motorcycle that offers breathtaking performance, advanced technology, and striking design, all at a competitive price. With its powerful engine, electronic suspension, and comprehensive electronics package, the ZX-10R SE is a top contender in the superbike segment, delivering an exhilarating riding experience on both the track and the street. If you're in the market for a high-performance motorcycle that doesn't compromise on comfort and style, the Kawasaki Ninja ZX-10R SE should be at the top of your list.