The motorcycle industry is filled with a wide range of two-wheelers designed to cater to the diverse preferences of motorcycle enthusiasts. Amidst this variety, the Benelli TNT 300 stands out as a brilliant amalgamation of style, performance, and affordability. In this comprehensive review, we will explore the TNT 300's top speed and impressive specifications and delve into what makes this motorcycle a great choice for riders of all levels.
Unleashing the Power: Benelli TNT 300 Top Speed
The Benelli TNT 300 is known for its thrilling performance and impressive top speed. Powered by a 300cc parallel-twin, liquid-cooled engine, this bike can reach a remarkable top speed of 140 km/h (87 mph). This impressive speed is achieved through a combination of a well-tuned engine, a six-speed transmission, and lightweight construction. As a result, the TNT 300 is perfect for those who seek an adrenaline rush on the open road without sacrificing maneuverability or control.
The Heart of the Beast: Engine and Performance
The Benelli TNT 300's engine is at the core of its exceptional performance. The 300cc, 8-valve, DOHC, parallel-twin engine boasts an impressive 37.5 HP at 11,500 RPM and a maximum torque of 27 Nm at 10,000 RPM. This potent engine, coupled with a six-speed transmission, offers riders a seamless and exhilarating riding experience.
This model also features Electronic Fuel Injection (EFI) for improved fuel efficiency and a smoother throttle response. The engine's liquid-cooling system efficiently dissipates heat, ensuring consistent performance even during extended rides.
Light and Nimble: Chassis and Suspension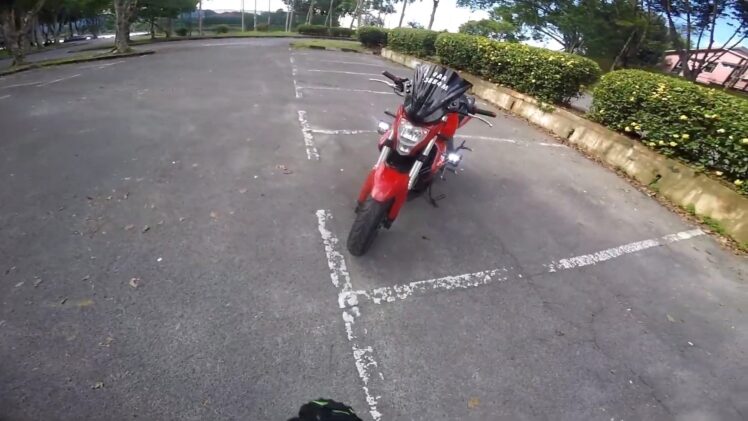 The Benelli TNT 300's chassis is designed to provide excellent handling and stability. Its steel trellis frame, coupled with an aluminum swingarm, offers a lightweight yet robust foundation that ensures agile and responsive handling.
The suspension system on the bike is tailored to provide both comfort and performance. At the front, the motorcycle features 41mm inverted forks with 115mm of travel, while the rear boasts an adjustable mono-shock with 120mm of travel. This setup allows the TNT 300 to glide over rough surfaces with ease and maintain stability even at high speeds.
Braking Power: Stopping with Confidence
When it comes to stopping power, the Benelli TNT 300 does not disappoint. Equipped with dual 260mm front discs and a single 240mm rear disc, the bike's braking system provides excellent stopping power and control, ensuring the rider's safety and confidence on the road.
Additionally, the TNT 300 comes with dual-channel ABS as standard, allowing for superior control during hard braking and preventing wheel lock-up, which is essential for maintaining stability and safety.
Stylish and Functional: Design and Ergonomics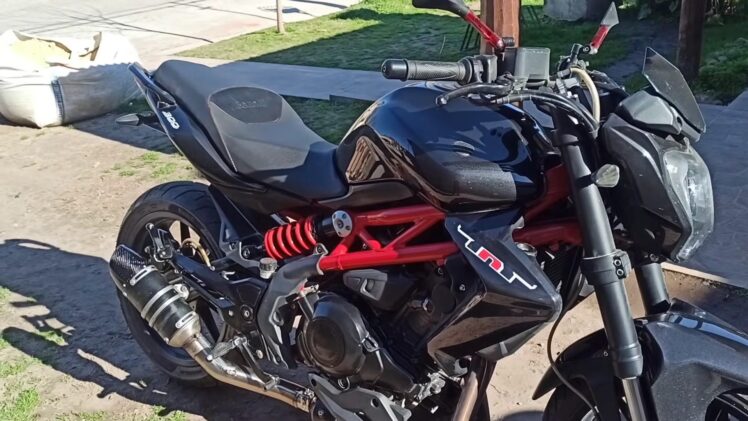 The Benelli TNT 300's design is a harmonious blend of style and functionality. Its aggressive yet sophisticated appearance is characterized by sharp lines, an exposed trellis frame, and an eye-catching under-seat exhaust. The motorcycle's overall design not only looks great but also provides a comfortable riding experience.
The TNT 300 features a well-crafted seat that ensures rider comfort during long journeys. The riding position is upright and relaxed, with handlebars positioned to reduce strain on the rider's wrists and shoulders. Footpegs are positioned to allow for a natural and comfortable leg position.
Lighting the Way: Illumination and Instrumentation
The Benelli TNT 300 boasts an advanced lighting system designed for optimal visibility and safety. The motorcycle features LED headlights that provide excellent illumination in low-light conditions and enhance the bike's overall appearance. The LED taillights and turn signals are bright and visible, ensuring that other motorists can easily see the rider's intentions on the road.
The TNT 300's instrumentation is both informative and easy to read. The digital-analog combo cluster includes a tachometer, speedometer, fuel gauge, odometer, trip meter, and a gear indicator. This comprehensive display provides riders with all the necessary information to monitor their motorcycle's performance and enjoy a safe and enjoyable riding experience.
Practicality and Versatility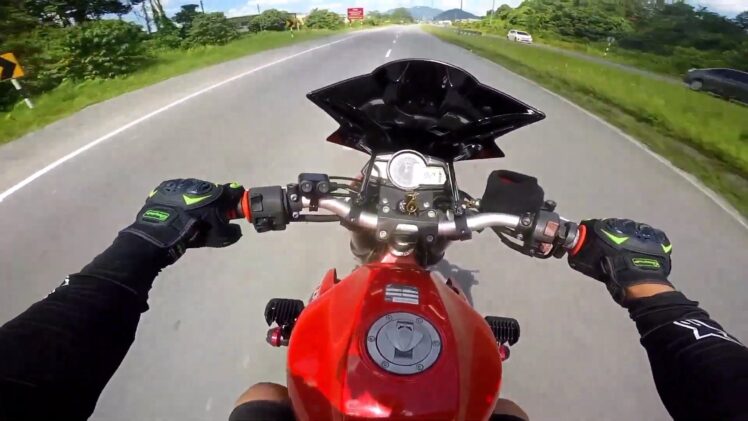 The Benelli TNT 300 is not only a high-performance machine but also a practical and versatile motorcycle. Its comfortable ergonomics, powerful engine, and responsive handling make it suitable for a variety of riding situations, from daily commutes to weekend getaways. The bike's accessible seat height of 795mm (31.3 inches) accommodates a wide range of riders, making it an excellent choice for both new and experienced motorcyclists.
The TNT 300 also offers a respectable fuel efficiency of approximately 25-30 km/l (58-71 mpg), depending on riding conditions and style. This efficiency, combined with a generous 16-liter (4.2-gallon) fuel tank, ensures that riders can cover long distances without worrying about frequent refueling stops.
The Competition
The Benelli TNT 300 faces stiff competition from other motorcycles in the 300cc segment. Some of its main rivals include the Kawasaki Z300, KTM 390 Duke, and Yamaha MT-03. While each of these motorcycles has its own set of strengths, the TNT 300 holds its own with its combination of performance, style, and affordability.
Price and Availability
The Benelli TNT 300 offers an excellent value proposition for those seeking a high-performance motorcycle without breaking the bank. With a starting price of around $4,200 (subject to change based on market conditions), the TNT 300 is competitively priced within the 300cc segment.
The motorcycle is available through authorized Benelli dealerships and can be customized with a range of genuine Benelli accessories, including frame sliders, engine guards, and more, to enhance both style and functionality.
Enhanced Riding Experience: Advanced Technology
The Benelli TNT 300 incorporates modern technology to improve the overall riding experience. One notable feature is the Electronic Fuel Injection (EFI) system, which optimizes fuel delivery to the engine. This results in better throttle response, smoother power delivery, and improved fuel efficiency.
The TNT 300's dual-channel ABS system is another technological feature that enhances safety and control while braking. By preventing wheel lock-up and maintaining stability during hard braking, the ABS system allows riders to confidently navigate various road conditions and situations.
Customization and Personalization
The TNT 300 offers riders the opportunity to personalize and enhance their motorcycle according to their preferences. Benelli provides a range of genuine accessories that not only add style but also improve functionality. Some popular options include:
Performance exhaust systems
These aftermarket exhausts can enhance the TNT 300's performance and produce a more aggressive exhaust note.
Adjustable levers
Riders can replace the stock levers with adjustable alternatives, allowing for a more customized and comfortable riding experience.
Luggage solutions
For those who plan on using their TNT 300 for longer journeys or daily commuting, various luggage options such as saddlebags, tail bags, and tank bags can increase storage capacity and convenience.
Crash protection
To safeguard the motorcycle from potential damage, riders can opt for frame sliders, engine guards, and axle sliders, which provide additional protection in the event of an accident or fall.
Maintenance and Reliability
Benelli has a reputation for producing reliable motorcycles, and the TNT 300 is no exception. The motorcycle's build quality is impressive, with high-quality components and materials used throughout. Regular maintenance, as outlined in the owner's manual, is crucial in ensuring the longevity and reliability of the TNT 300. This includes timely oil changes, chain adjustments, and regular inspection of brake pads, tires, and other wear items.
Community and Support
By choosing the Benelli TNT 300, riders become part of a global community of Benelli enthusiasts. Various online forums and social media groups provide a platform for TNT 300 owners to share their experiences, ask for advice, and discuss modifications or upgrades.
In terms of support, Benelli has a growing network of dealerships and service centers worldwide. These authorized centers are equipped to handle maintenance, repairs, and warranty claims, ensuring that riders receive the best possible care for their TNT 300.
Final Words
In summary, the Benelli TNT 300 is an impressive package that combines top speed, remarkable specifications, and stylish design into an affordable and accessible motorcycle. Its powerful engine, exceptional handling, and comfortable ergonomics make it an excellent choice for riders seeking an exhilarating yet practical riding experience.
Whether you're a new rider looking for a manageable first motorcycle or an experienced motorcyclist looking for a versatile addition to your garage, the Benelli TNT 300 is a bike worth considering.