Welcome to our in-depth review of the Yamaha MT-10, the flagship hyper-naked motorcycle from the renowned Japanese manufacturer. With its aggressive styling, impressive performance, and cutting-edge technology, this bike has captured the attention of motorcyclists worldwide. In this comprehensive article, we'll explore the MT-10's top speed, key specifications, and what makes this motorcycle a force to be reckoned with. So, strap in and get ready for an adrenaline-fueled ride through the world of this powerful machine.
Unleashing the Beast – A Quick Overview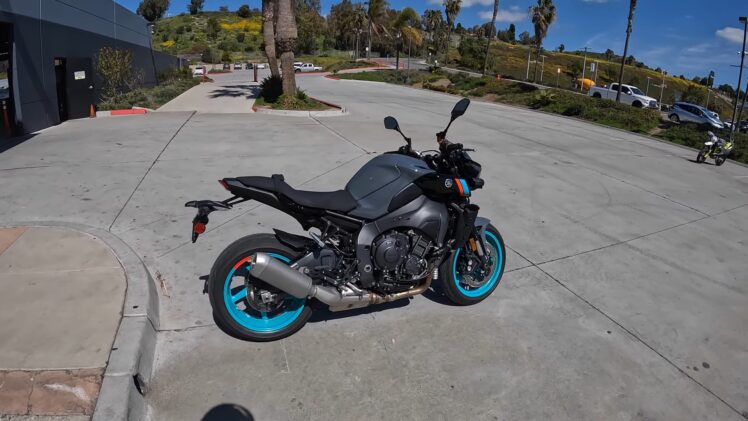 The Yamaha MT-10, also known as the FZ-10 in North America, was first introduced in 2016. It is part of Yamaha's MT series, which stands for "Master of Torque," aptly describing the nature of the bikes in this range. The MT-10 is the pinnacle of the series, offering a perfect blend of performance, agility, and comfort.
At its core, the MT-10 is powered by a 998cc cross-plane inline-four engine derived from the iconic Yamaha YZF-R1. This powerful engine is tuned for street use, providing a broad torque curve and impressive top-end power. The result is a motorcycle that is equally at home on city streets as it is on the racetrack.
The Heart of the Beast – Engine and Performance
Yamaha's cross-plane engine technology has revolutionized the motorcycle industry, and the MT-10 is no exception. The 998cc inline-four engine produces 160 horsepower and 81.8 lb-ft of torque, providing smooth yet explosive power delivery. The cross-plane crankshaft ensures a linear torque curve across the rev range, giving riders a thrilling and responsive ride.
The MT-10's engine is not just about power; it is also remarkably efficient, with a claimed fuel consumption of 35 MPG. Yamaha's YCC-T (Yamaha Chip Controlled Throttle) and D-MODE selectable throttle response system allow riders to tailor the bike's performance to their preferences and riding conditions.
Taming the Beast – Chassis, Suspension, and Brakes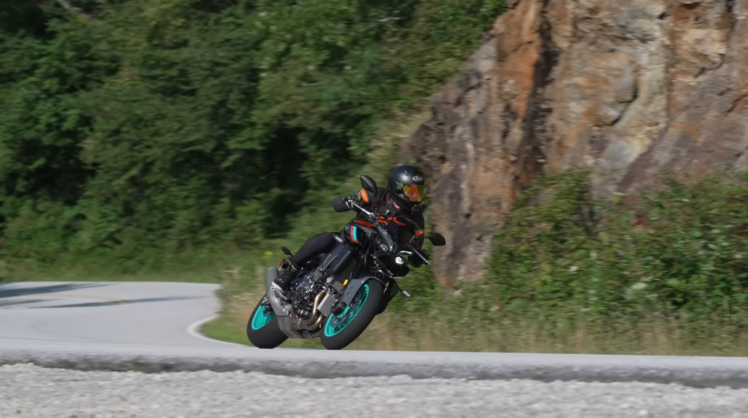 The Yamaha MT-10 features a lightweight, twin-spar aluminum Deltabox frame inherited from the R1, providing excellent rigidity and precise handling. The fully adjustable KYB suspension, with 43mm inverted forks up front and a rear mono-shock, can be fine-tuned to suit the rider's preference and riding conditions.
The MT-10 is equipped with high-quality radial-mount, 4-piston front brake calipers, and large 320mm dual discs, offering exceptional stopping power. The rear brake consists of a single 220mm disc with a single-piston caliper. Yamaha's advanced ABS system comes standard, ensuring maximum braking performance and safety in all conditions.
The Beast in Control – Rider Aids and Electronics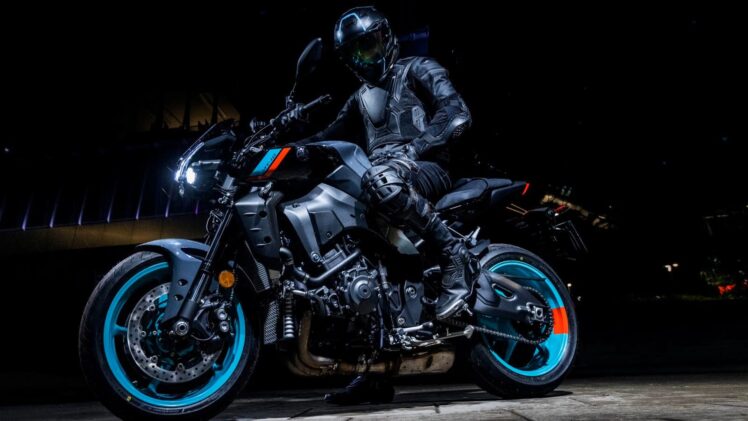 The Yamaha MT-10 boasts a suite of advanced electronic rider aids, making it one of the most sophisticated motorcycles in its class. The bike features a 6-axis Inertial Measurement Unit (IMU), providing real-time data to the various electronic systems, including:
Traction Control System (TCS)
The MT-10's TCS offers three levels of intervention, allowing riders to choose the level of assistance they require, depending on the road conditions and their riding style. The system can also be turned off completely.
Slide Control System (SCS)
This advanced feature monitors the rear tire's grip and adjusts engine output to prevent excessive sliding, ensuring optimal traction and control. The SCS has two levels of intervention and can also be deactivated.
Lift Control System (LIF)
The LIF system prevents unintended wheel lift during hard acceleration, keeping the front wheel on the ground for improved stability and control. Like the SCS, the LIF system offers two levels of intervention and can be switched off.
Quick Shift System (QSS)
The QSS allows for clutchless upshifts, enabling lightning-fast gear changes for a smoother, more exhilarating ride. This system is particularly useful when riding aggressively or on the racetrack.
Cruise Control
For added convenience on longer rides, the MT-10 comes with cruise control, allowing riders to maintain a steady speed without constant throttle input.
D-MODE Throttle Mapping
Riders can choose from three different throttle maps (Standard, A, and B) to suit their preferences and riding conditions. Standard mode offers a balanced throttle response, A mode provides a more aggressive response, and B mode delivers a softer, more relaxed response.
All these electronic aids can be easily accessed and adjusted through the left handlebar switchgear and the TFT (Thin Film Transistor) display, ensuring a seamless riding experience.
The Beast's Lair – Ergonomics and Comfort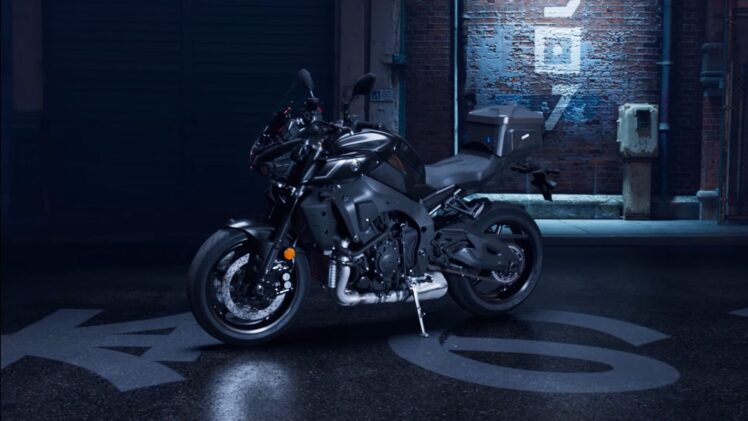 The Yamaha MT-10 offers a comfortable, upright riding position, thanks to its wide handlebars and a slightly rear-set footpeg placement. This ergonomic design is perfect for long-distance rides and commuting, reducing rider fatigue and ensuring excellent control.
The seat is well-padded and designed for comfort on extended journeys. Additionally, the MT-10 features an adjustable windscreen, providing adequate wind protection for different rider heights and preferences.
The Beast's Attire – Styling and Design
The MT-10's aggressive design makes a bold statement, with sharp lines and a menacing, robotic face. The bike's twin-eye LED headlights give it a distinctive appearance, while the minimal bodywork and exposed engine showcase its raw, mechanical nature. The compact tail section, with its integrated LED taillight, further enhances the MT-10's aggressive stance.
Available in a variety of eye-catching color schemes, the Yamaha MT-10 is sure to turn heads wherever it goes.
Accessorizing the Beast – Optional Equipment and Customization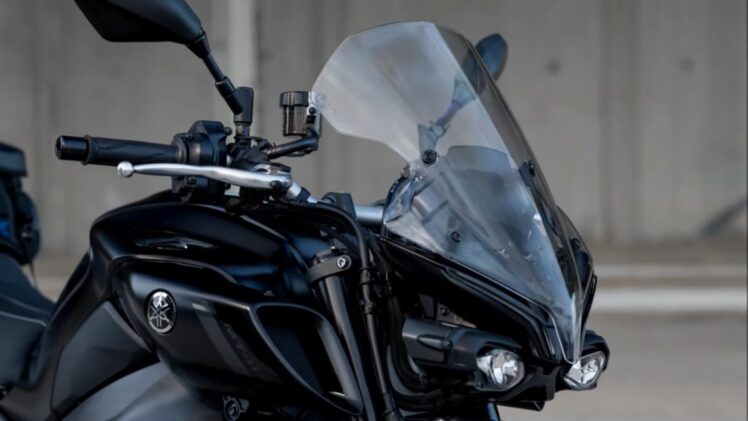 The Yamaha MT-10 can be further enhanced with a wide range of optional equipment and accessories, allowing riders to customize the bike to suit their unique needs and preferences. Some popular options include:
Akrapovič Exhaust System: This aftermarket exhaust system, developed in collaboration with Akrapovič, not only offers a weight reduction but also enhances the MT-10's signature crossplane engine sound. It also adds a touch of visual appeal, thanks to its carbon fiber muffler and titanium headers.
Frame Sliders: To protect the MT-10's engine and frame in case of a fall, Yamaha offers purpose-built frame sliders that are both functional and stylish.
Radiator Guard: An optional radiator guard is available to protect the MT-10's radiator from stones and debris, ensuring optimal cooling and performance.
Heated Grips: For riders in colder climates or those who enjoy extended touring, Yamaha's heated grips provide additional comfort and convenience.
Panniers and Top Case: To expand the MT-10's touring capabilities, Yamaha offers a range of panniers and top cases that integrate seamlessly with the bike's design. These storage solutions are both practical and stylish, making them perfect for weekend getaways or long-distance rides.
Tail Tidy: For a cleaner, more aggressive look, riders can opt for a tail tidy kit, which streamlines the rear fender and relocates the license plate and turn signals.
The MT-10 SP – A Special Edition Beast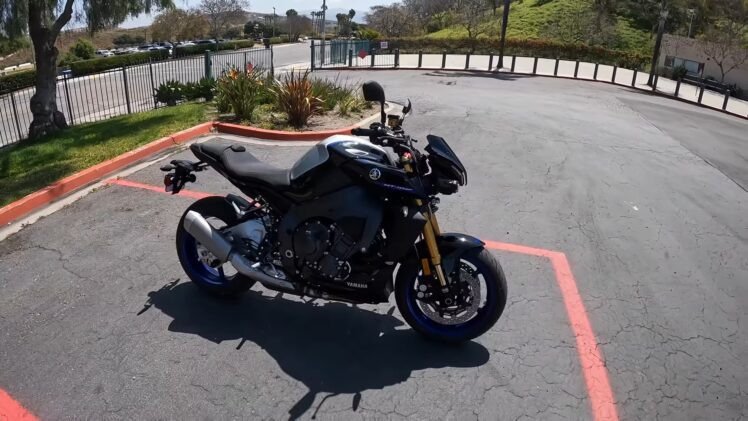 For those seeking an even more exclusive version of the MT-10, Yamaha offers the MT-10 SP (Special Performance) edition. The SP model features several upgrades, including:
Öhlins Electronic Racing Suspension (ERS): The MT-10 SP comes equipped with a fully adjustable Öhlins Electronic Racing Suspension, providing superior handling and feedback compared to the standard model. The ERS automatically adapts to different road conditions and riding styles, ensuring optimal performance at all times.
Exclusive Color Scheme: The MT-10 SP features a unique color scheme, with a Silver Blu Carbon paint job and contrasting blue wheels, setting it apart from the standard model.
Thin Film Transistor (TFT) Display: The MT-10 SP features an upgraded, full-color TFT display, offering improved readability and a more premium look.
Cruise Control: While available as an optional accessory for the standard MT-10, cruise control comes standard on the MT-10 SP, adding an extra level of comfort and convenience for long-distance rides.
These enhancements make the Yamaha MT-10 SP a more premium and exclusive option for riders seeking the ultimate in performance and technology from their hyper-naked motorcycle.
The Beast Conquered – Final Verdict
The Yamaha MT-10 is a true beast, offering exhilarating performance, cutting-edge technology, and aggressive styling. Its potent engine, advanced electronics, and comfortable ergonomics make it an excellent choice for riders seeking an adrenaline-fueled experience on both the street and the track.
However, the MT-10's raw power and razor-sharp handling may not be suitable for inexperienced riders or those looking for a more relaxed ride. For those seeking a tamer but still thrilling experience, Yamaha's MT-07 and MT-09 models offer excellent alternatives.
The Yamaha MT-10 is a masterpiece of engineering and design, delivering an unforgettable riding experience that is sure to satisfy even the most demanding motorcyclists. If you're looking for a hyper-naked motorcycle that offers top-notch performance, advanced technology, and aggressive styling, the MT-10 is hard to beat.